Overview of our services – One-stop expertise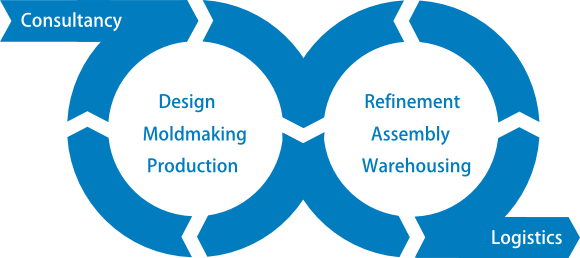 Consultancy
You need technical components, assemblies or serial plastic products? We can advise you from the initial idea about the development through to the finished product. We will identify the optimal and efficient product concept bearing in mind all technical feasibilities and functionalities. We put our main focus on your ideas!
Design
We develop, design and manufacture tools for all areas. By employing state-of-the-art CAD / CAM software, we can provide a variety of options for the production of tool molds. Already during the development phase we hold extensive and constructive discussions with our customers for the overall result to be optimal.
Moldmaking
The most sophisticated mechanical precision machining with the state-of-the-art CNC technology lays the basis for faultless production. The forms are optimized during the test phase until the final result meets all requirements. The decisive benefits for our customers are quality and efficiency.
Production
We produce plastic parts and assemblies for different areas of application on modern injection molding machines. Beyond the classical injection molding technology, we also offer such production processes as hollow body blow molding, metal-plastic composites, two-component production and foam technology. We also gladly implement special solutions.
We process basic and high-performance plastics. Constant improvement of production through organization and automation is our objective. To this end, we are in constant dialog with our business partners.
Refinement
Refine your products individually. By using our direct dyeing units, we can satisfy color preferences. If there are particular wishes, we will gladly organize and prepare the required services. We use a reliable network in all areas of refinement.
Assembly
We design and implement single-unit and assembly mounting stations. Besides, we will gladly take over the assembly of purchased parts or pre-produced injection molded parts.
Packaging
Of course, we pack your items to make them suitable for transportation. Moreover, we can pack your products to be ready for sale.
Warehousing
There is enough room! We can provide both short-term and long-term storage for your products. Even larger quantities are no problem.
Delivery
We use our own truck fleet or a forwarding agent for fast and smooth transportation of products. If requested, we also ship the products directly to the end customer.